Campbell Accommodations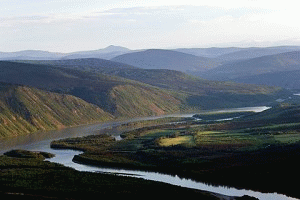 The Campbell Region is a wildlife rich and scenic backcountry travel region in the east-central Yukon. Both the region's towns (Faro with 400 people and Ross River with 337 people) are oriented towards eco tourism. As well, the Farrago Music Festival and the Ice Worm Squirm Winter Carnival entertain residents and visitors alike.
Faro has several wildlife viewing platforms around town that visitors can view moose, Dall's Sheep and Stone's Sheep from, as well as migrating birds. Faro is also home to the Campbell Region Interpretive Centre, a log building with displays on the region's wildlife, geology, and history. The Centre provides information on the Region's trails, scenic drives, fishing lakes, and wildlife viewing spots. Several nearby fishing lakes are accessible by dirt road, and also are good canoeing lakes. Hiking trails vary in distance and required ability, but all offer wilderness scenery. Campgrounds exist in the area for overnight visitors. For back country hiking, safety equipment such as GPS devices should be taken along.
Blue House Bed & Breakfast
Nature Friends Bed & Breakfast
Northstar Bed & Breakfast
The Valley Bed & Breakfast

Travel In The Yukon offers a number of methods for boosting your YT accommodations business via the Internet.