Kluane Accommodations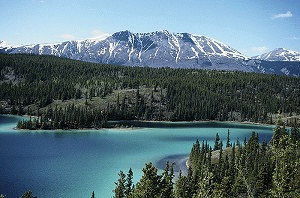 A short two-hour drive from Whitehorse, the Kluane area (meaning 'place of many fish') is one of the most popular to visit in the Yukon. Experienced hikers and mountaineers will enjoy the challenge these mountains provide, as hikers must don crampons to scale its slopes.
The mountains' warmer ranges on the Icefields' edges are home to the largest variety of wildlife in Northern Canada. Get ready to see moose, wolves, red foxes, wolverines, lynx, otters, beavers, and bears. The National Park is accessible only by foot, so spend a night and explore the whitewater rafting possibilities (again, only for the experienced rafters, as the waters are often wild). The Kluane Lake is the largest lake in the territory, and is known for its storms, which create miles of churned up waves.
Stay in the Kluane area and discover why this National Park was declared a World Heritage Site by UNESCO (United Nations Educational, Scientific, and Cultural Organization).
Mile 1202 Alaska Highway Beaver Creek
Mendenhall Malamute Bed & Breakfast
Box 20623 Km 1495.7 Alaska Highway

Travel In The Yukon offers a number of methods for boosting your YT accommodations business via the Internet.