Southern Lakes Accommodations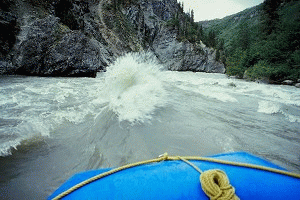 The Southern Lakes region of the Yukon includes Carcross, Marsh Lake, Mount Lorne, Taglish, and
Teslin
, as well as BC's town of Atlin. Carcross, home to 437 people, is the region's largest town.
Many Southern Lakes areas offer nearby wildlife viewing opportunities of caribou, moose, wolves, eagles, and other wildlife.
Teslin
, the gateway to the Southern Lakes region, offers beautiful lake and mountain scenery, hiking, boating, and fishing.
Teslin
also offers the Yukon Wildlife Gallery, the George Johnston Museum and the Teslin Tlingit Heritage Centre. Tagish Lake offers rich fishing opportunities, and there's a wide variety of local plant life. Marsh Lake is a scenic glacier fed lake surrounded by mountains and the home to migrating Tundra and Trumpeter Swans in the Springtime. Mount Lorne is a hamlet of 380 people and about as many sled dogs. The Yukon Suspension Bridge at Tutshi Canyon offers visitors a footbridge 57 feet above the white water rapids. On the way into Carcross, visitors pass through the Carcross Desert, a sand dunes area formed when ice age glacial lakes dried and left the silt behind. Carcross has a number of historic buildings, including the 1920 Carcross (RCMP) Barracks. Travellers can view more of the Southern Lakes region on the 6 hour Yukon Adventure train trip from the 1910 Carcross Heritage Railway Station to Skagway, Alaska.
From the luxurious Inn on the Lake, about 55 km south of Whitehorse, guests can sample the best of a pristine wilderness as featured on Martha Stewart Living. Owner Carson Schiffkorn and his staff provide a warm and inviting setting with European flair, gracious service, indoor pampering, wireless Internet service and an almost unimaginable range of outdoor activities.
Distances to…
Airport: 7km
Downtown Whitehorse: 53.3km

Inn on the Lake

76 McClintock Place
Marsh Lake
Spirit Lake Wilderness Resort
The Old Screen Door Bed & Breakfast

Travel In The Yukon offers a number of methods for boosting your YT accommodations business via the Internet.
Southern Lakes Communities