Silver Trail Accommodations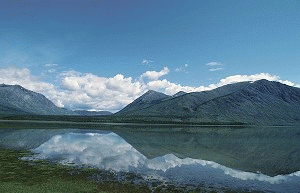 The Silver Trail connects the towns of Elsa, Keno City,
Mayo
, and Stewart Crossing. The historic Yukon Highway 2 was named the Silver Trail in commemoration of the region's historic "other mineral rush". The trail is 111 km (69.0 miles) long, and runs east towards the mountains from the Klondike Highway at Stewart Crossing.
The Silver Trail is paved up to
Mayo
, but gravel from there to Elsa and Keno City. The Trail provides access to scenic land with hiking, fishing, and camping amongst views of glaciated terrain. On the banks of the Stewart River,
Mayo
is home to the First Nation of Nacho Nyak Dun.
Mayo
's BInet House Interpretive Centre in a restored heritage building displays the area's history, wildlife, geology, and permafrost, and a 3-D relief map. The effects of permafrost can be seen in the Drunken Forest, where trees lean in different directions due to the permafrost melting in the poorly drained soil. Nearby, outdoorsy people will enjoy McIntyre Park and Gordon Park. Also in the Trail's area, Five Mile Lake and Mayo Lake offer boating and walking opportunities. Keno City, an old silver boomtown, is today a community of 25 people and a good base from which to explore the back country. Also on the Trail is the town of Elsa, once a privately-owned mining town and now a closed and mostly dismantled ghost town.
** Featured Listing **
Make the Bedrock your home away from home while you enjoy the activities on the Silver Trail, "The Jewel of the Yukon". 12 Spacious rooms. Laundry. Handicap facilities. RV and tenting spaces also available.
Bedrock Motel

Silver Trail Highway
Mayo
Keno Cabins Bed & Breakfast

Travel In The Yukon offers a number of methods for boosting your YT accommodations business via the Internet.